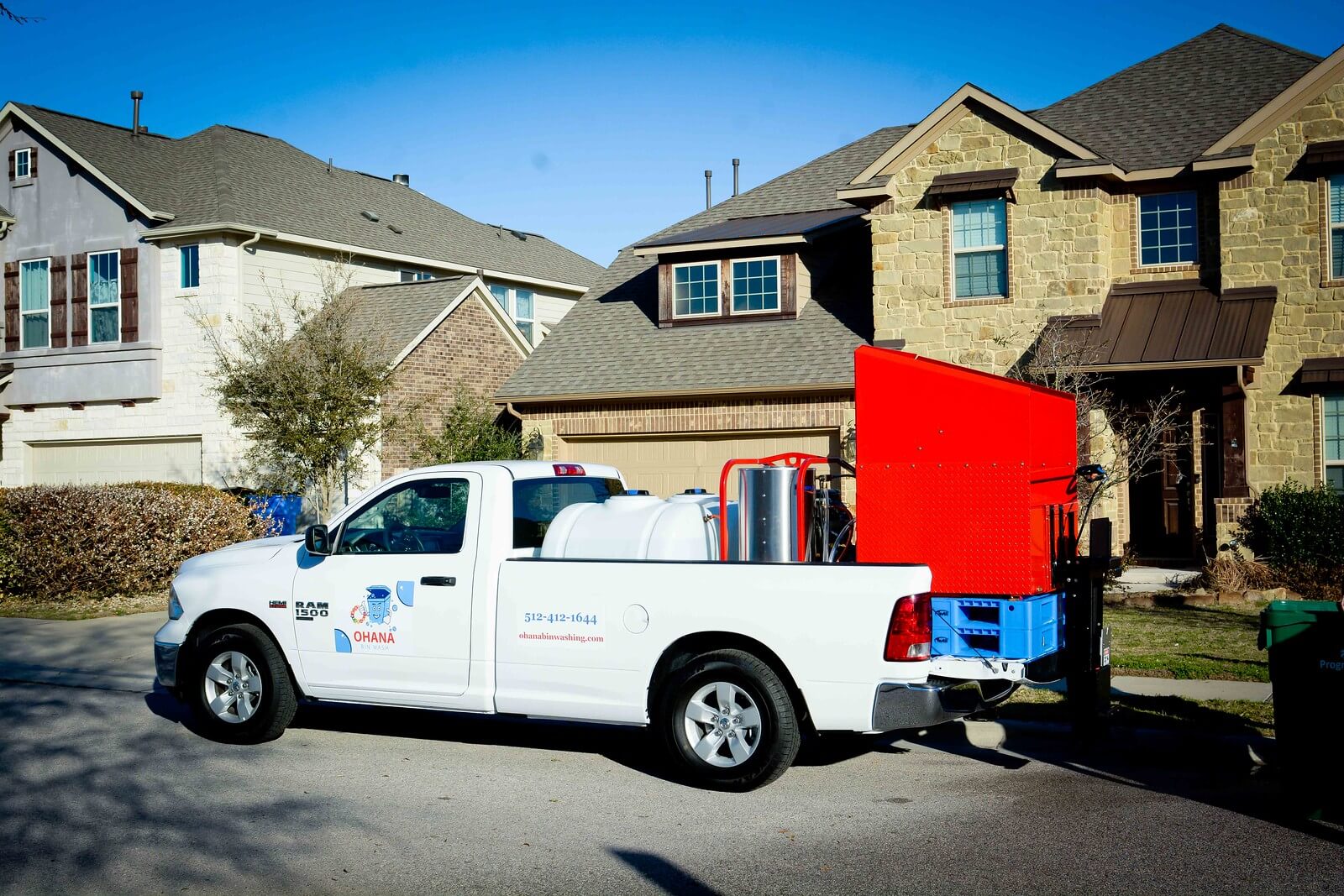 Why Do You Need Trash Bin Cleaning Services in Round Rock?
Wouldn't it be nice if you could get someone else to do all your trash bin cleaning for you in Round Rock? If you hire Ohana Bin Washing, our trash bin cleaning service will leave your garbage bin sparkling. As a result, you can cross at least one stinky task off your list.
It's worth considering. By keeping your trash can clean, you can reduce the number of harmful bacteria that grow there. By reducing bacteria in your home, you and your family are less likely to get sick. Instead of dealing with a stinky mess after trash day, expect a spotless, odor-free bin by hiring our services. Here's how our trash can cleaning Round Rock services work.
How Does Ohana Trash Bin Cleaning Work?
Ohana Bin Washing cleans trash cans on a mobile, truck-mounted system. In order to keep your trash can clean on trash days, we schedule our services with yours. All you have to do is to select a package. Then we'll come to your house and clean the trash cans on the days your trash is picked up. Just let us know what days your trash is picked up, and we'll take care of cleaning the trash bin for you!
Our team informs you when we are done with a text message. Afterward, you can enjoy your sparkling clean trash can at home. It's time to stop plugging your nose over dirty trash cans!
What's a Mobile Trash Can Cleaning Service
The mobile truck is the key to our trash can cleaning Round Rock services. We can move easily around busy on-street parking areas, rear alleyways, and streets to access your trash cans! Using high-pressure, high-temperature water, Ohana Bin Washing cleans away grime. Using state-of-the-art technology, we minimize water waste without compromising cleaning efficiency. After every cleaning, your trash can will be clean and smell fresh because of the combination of water flow, heat, pressure, and rotating cleaning heads.
We also filter our wastewater through a three-stage gravity filtration system, which removes solids including heavy metals, phosphates, bacteria, and heavy metals. Prior to disposing of the filtered water into the sanitary sewer system, we collect it in an onboard holding tank. Our treatment process makes our water cleaner than household wastewater, so our customers don't need to worry about the environment!
The final step is to deodorize your trash can with an enzyme-based deodorizer. Because of this, our customers can always count on us to get their cans clean. It's why choosing Ohana Bin Washing in Round Rock is a no-brainer! 
What Separates Ohana Bin Washing Services From the Competition?
Ohana Bin Washing blasts bacteria, dirt, and grime from your bin with the latest can-cleaning technology. The Ohana Bin Washing system has been designed specifically for trash can cleaning, so it's unlike any other commercial service. Designed to minimize environmental impact, our system provides maximum cleaning power. 
Our goal is to provide exceptional service to our Round Rock customers without overstating our capabilities. 
When you choose us, you choose a reliable trash bin cleaning service that's cost-effective and environmentally friendly. 
Looking for a Trash Bin Cleaning Service Near Me in Round Rock?
Ohana Bin Washing is excited to offer our trash bin cleaning service to the residents of Round Rock and CAN't wait to welcome you to our community. You can rely on us for your trash bin cleaning to go above and beyond what you expect. Give us a call at (512) 412-1644 today to learn more!